Christopher D. Johnson, MD, FACS, a triple-board-certified and fellowship-trained hand and reconstructive surgeon at Professional Orthopaedic Associates, recently traveled to Honduras with the Health Volunteers Overseas (HVO) organization to provide medical care for Honduran patients. This trip marked Dr. Johnson's 20th medical mission.
"It is a privilege to be involved with this organization and to be a conduit to continued and improved care in Honduras," says Dr. Johnson.
During this trip, Dr. Johnson used his experience and expertise in complex hand surgeries to reconstruct the hand of a boy born with thumb duplication as well as to provide care for other Hondurans who often have no access to surgical care.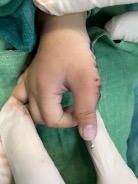 In addition to being a longtime volunteer for HVO, Dr. Johnson is the local program director and coordinates and provides care for the HVO's mission program at Escuela Hospital. He has spearheaded many projects, including opening an adult burn center, but his most recent accomplishment was expanding the mission from one hospital to three.
HVO is a nonprofit organization with the mission to improve healthcare globally through education. With the help of Honduraide, a U.S.-based 501(c) corporation dedicated to providing Honduran patients with comprehensive medical care, it is able to fund the hospitals as well as purchase needed equipment. Honduraide is also involved in providing education to medical students, residents, fellows, and local physicians.
To learn more about HVO and its mission, please click here.