Mary Lee Bass, Ed. D. is Another Happy Robotic Total Knee Recipient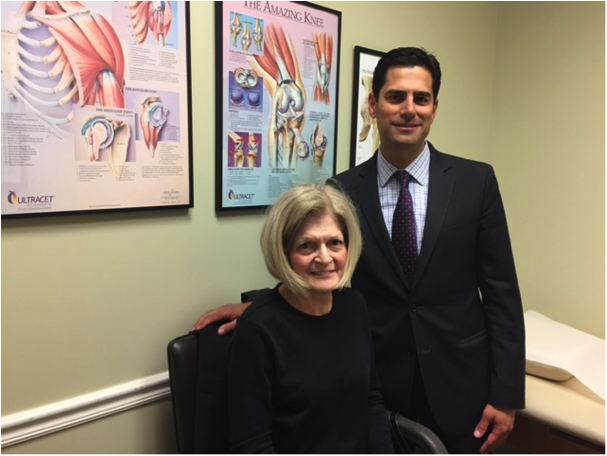 Back in 2006, Dr. Mary Lee Bass first injured her knee while tap dancing. Physical therapy worked for a while, but over time, the pain returned. Dr. Bass who is a retired professor from Monmouth University's School of Education, had seen Dr. Mark Gesell once before for hip pain and was thrilled with her results. Just recently, her knee pain returned and, again, she turned to Professional Orthopaedic Associates.
Dr. Mark Gesell has been using the state-of-the-art MAKOplasty technology for hip replacements and partial knee replacements, with great success, for four years. This technology recently became available for total knee joint replacements. The MAKOplasty surgical equipment allows the surgeon to personalize the joint that is being replaced. This is done by measuring the exact contours of the patients' joint using a CT scan that is completed prior to surgery. These pre-measurements allow the surgeon to fine-tune the positioning and size of the implants used to replace the joint.
"Dr. Bass was eligible for the MAKO-robotic technology and this allows for a quicker recovery, less pain, less stiffness and improved range of motion after surgery. She is progressing beautifully," says Dr. Gesell.
"I cannot thank Dr. Gesell and his team enough. It is rare to find a doctor with an excellent bedside manner AND excellent clinical skills. He is so kind and I never felt rushed, he took the time to answer all of my questions", says Dr. Bass.
Dr. Gesell is a Board Certified Orthopaedic Surgeon at Professional Orthopaedic Associates and specializing in hip and knee replacement, arthroscopic surgery, degenerative joint disease and revision joint replacement.